02 Dec

How to Get Around in London

London, like all other fantastic, bustling cities has three main methods of transportation: taxi, the Tube (its metro system), and those famous double decker buses. At first, navigating London may be a bit scary and imposing, but in a short span of time, you're bound to get familiar with the city and how to get to your internship in London.

Here's a bit of information and a few tips on how to get around the city.

Taxis

The ubiquitous London Black Cabs are convenient and efficient when it comes to space. In some models, cabs can take up to 5 passengers, while in other models a maximum of 6 people can fit. And if you're traveling with a bunch of suitcases, it's not a problem, as your luggage can slide right under the passenger seats.
When it comes to hailing a cab off the streets, look for those with illuminated yellow lights – that means the cab is available, and ready to drive you to your destination.
The minimum charge for using taxis is £2.40, and taxi drivers are obligated to drive you anywhere within a 12-mile radius. In terms of payment, most cabs will accept payment by credit or debit cards, but just in case, make sure to ask beforehand. When you get dropped off to your destination, you can feel free to tip your driver (although it's not mandatory). A general rule is that you tip them up to 10%.
London Tube
London is strung together by 12 tube lines. Using London's metro system is definitely the fastest way to get around the city, but be warned, the first few times you use the metro can be a real hassle. Figuring out the system is definitely a challenge, but once you get a hang of reading the maps and knowing where to go, you're sure to become a pro.
Usually, a single journey is £4.70, which is relatively expensive, so, since you'll be there for a month or so, don't worry all our London interns are provided with an all-you-can travel oyster card. It'll allow you unlimited travel throughout London (and can also be used on the buses).
A few things to be weary of: if you're planning to travel between 7-9 am and 5:30-7 pm for your London internship (which you probably are), good luck. These are rush hour times and the Tube gets incredibly crowded. Also, when getting on the tube trains, be aware that there is a step of up to 8 inches either up or down between the platform and the train. So when you're battling your way through the masses during rush hour, make sure not to trip as you're getting onto the train! Last piece of advice – when going on escalators or conveyer belts, walk on the left, stand on the right (many people have places to go and things to see)!
Double Decker Bus
This is the iconic symbol of London sightseeing. That being said, taking the bus is definitely the most scenic route of all the methods of transportation. Taking the bus also happens to be the most economical – a single fare is usually £1.45, and if you use the bus all day, you won't pay more than £4.40 per day.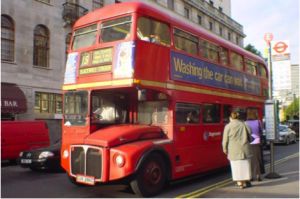 The main problem you may run into while taking the bus, is that you won't get dropped off very near your workplace for your internship in London, but taking the bus is good for those days when you just want to be a tourist.