15 Jan

How I Learned Differently Through My Remote Internship – Absolute Alumni

Claire Epps is a political science student at University of Alabama and an Absolute alumni that completed her remote internship program for a law company based in China. Right on the last week of her internship, she sent us a brief summary of her journey with Absolute Internship and her remote internship experience.
Changing my application for a study abroad program to a remote internship
For the past twelve weeks, I have had the incredible opportunity to work in my chosen field in a company half a world away. How is this possible, you ask? Through the Absolute Internship Remote Internship Program. Look it up, seriously.
When I was initially accepted into Absolute Internship's study abroad program, I thought it was too good to be true. Gaining invaluable work experience from a world-renown company while exploring a foreign country? Yes, please! Of course, reality took over, and Covid-19 rocked the world. I was devasted and angry for being deprived of the experience. Lucky for myself and hundreds of other students, Absolute Internship extended a helping hand and introduced their Remote Internship program. My new thought, "I can gain invaluable work experience from a world-renown company while learning in my pajamas? Yes, please!" I applied again, interviewed again, and soon received an email glowing with the word "Congratulations!". Once more, I applied and was chosen as an Absolute Internship Remote Scholarship Awardee.
What happened after enrolling in the remote internship program
Overjoyed at the thought of what was to come, I was quickly placed with and introduced to the law firm that would guide my learning for the next three months. My supervisor at MingDun law firm in Beijing immediately sought to get to know me as a person and as an intern.
"His warm welcome allowed me to feel as though I was truly part of a community an ocean away."
I was soon supplied with several tasks to research and provide notes on for the firm's use. Because this particular firm specialized in intellectual property law, each issue I researched brought me closer to understanding the nature of and interactions between intellectual property laws worldwide.

The highlights of my remote internship in China
"From reading Trademark Infringement laws in the U.S. to interpreting the legality of the infamous TikTok ban, to conveying my findings, I began to understand the value an internship of this caliber could have in the eventual success of my career."
Each time I submitted my research, my supervisor continued the learning process by meeting with me over Zoom and discussing any potential questions or clarifications I might have. This step was instrumental to my learning because it allowed me to speak with an expert in the field (not just over email) on a topic I was interested in pursuing as a career. It also granted me the opportunity to digest the mass amounts of information I was gathering and articulate it concisely. However, I would not have been able to do this effectively if it were not for Absolute Internship's Absolute Academy.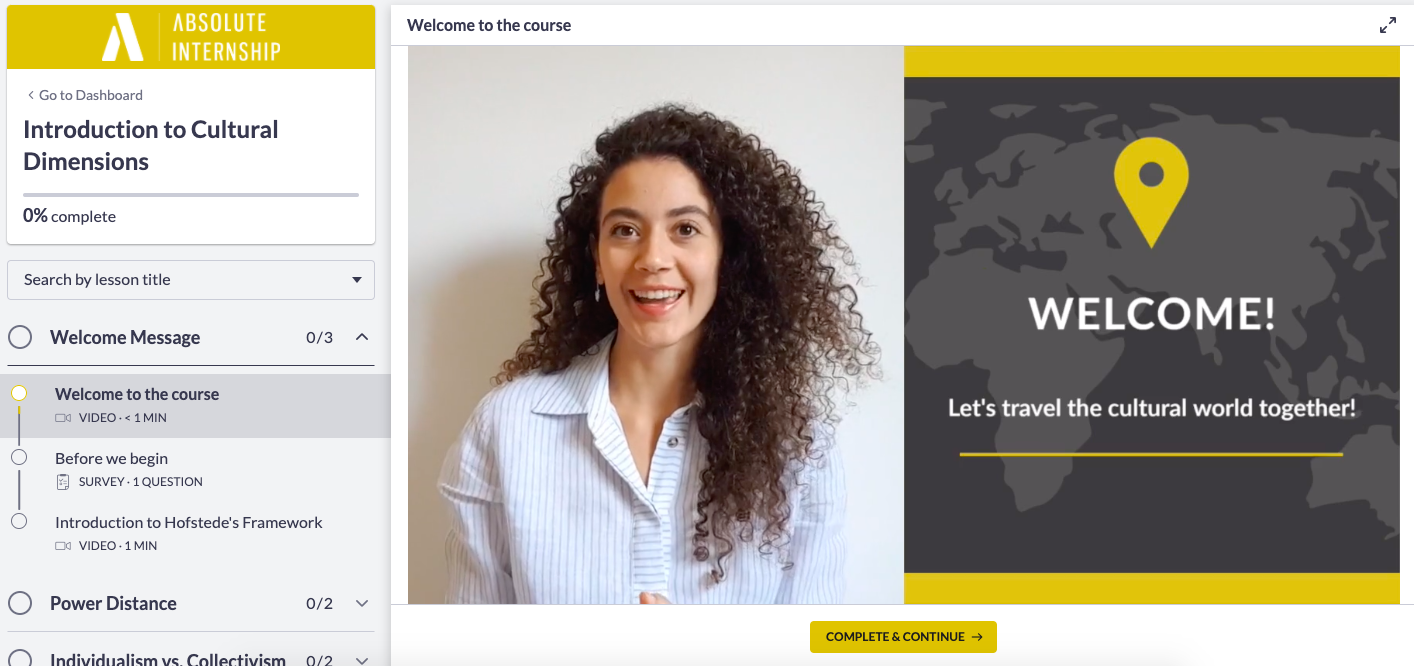 Complementing your internship with career and cultural training
Each member of the Absolute Internship program is given access to this informative platform to supplement their experience. From workshops on emotional intelligence at the workplace to the art of communication to understanding diversity, the Academy has a course on how to excel in any internship. Score! But the learning doesn't stop there.
To make sure you are receiving every bit of internship wisdom possible, the program also offers many workshops designed to enhance soft skills necessary to career success. My favorite workshop was The Art of Communication, in which I utterly embarrassed myself by showcasing my unfortunate lack of communication skills.
"I applied the lessons I learned from this and similar workshops to my work at MingDun Law Firm."
Throughout the previous twelve weeks, I am happy to report that I have grown not only as a researcher and writer but also as a team member, communicator, and critical thinker. I find it hard to believe that I could be just as successful in my career if I had not taken part in the Absolute Internship program. With the guidance of the wonderful Absolute Internship team and of MingDun Law Firm, I can continue down my career path with confidence and professionalism.