26 Jun

An American's First Days in Singapore
Shyam Thakker from the University of Michigan shares his current experience as an Engineering intern in Singapore as one of Absolute's Summer 2017 Intern Heroes.
I've been in Singapore for about a week and a half now, and without a doubt it's been the most exposure I've ever had to another culture. I have spent a solid number of hours simply walking around areas of the city, observing everything from the way people walk to the signs in the MRT stations that I see everyday. After my short time here, I've learned that Singaporean culture, in comparison to American culture, emphasizes kindness and courtesy towards others. At the same time the culture is richly diverse in terms religion, language, and most of all, food.
Coming from Chicago, a city which is well known as a place for different cultures to thrive, I can honestly say that Singapore is a city where cultures do more than just thrive, they become an integral part of whole city's culture. Every day as I head to work, I always hear the intercom telling the passengers that the doors are closing or to hold the rail in 4 different languages. Every place I've gone to eat always has options from all around the world. I've seen churches, mosques, Hindu temples, and Buddhist temples all around this city.
Recently we all went to Geylang Serai Ramadan Bazaar, and the experience clearly showed how accepted other cultures are here. While the bazaar celebrated Ramadan, people of many different faiths were present and enjoyed their time there. Not once in my time here has there been any sign of prejudice towards a certain group of people; it's almost ideal.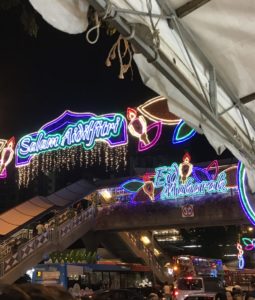 The culture of this city emphasizes everyone to be kind and always care for one another. I've noticed this most from the MRT stations that I visit everyday. Almost every single sign at every station I've been to promotes a positive message. There is a constant reminder to let those with a greater need sit down, even if that means giving up your own seat. In the Clarke Quay station there is a board filled with positive messages meant to lighten up your day.
Overall, one can describe the culture in Singapore as diverse, accepting, and courteous. However, a few words can never accurately portray an entire culture, so I am hoping to add more details to that description in the coming weeks.