26 Oct

How to Impress at a London Finance Internship
We interviewed Chloë, who completed a London Finance Internship on the Absolute Summer 2017 program. After her successful internship, she was offered a remote part-time position as she continues pursuing her studies in Business and French at Western University, Canada.
Why did you decide to do an internship abroad? How did you choose London?
I decided to do an internship after my first year because I was looking for relevant experience in my field and I knew I needed to work over the summer but I also wanted to travel. The Absolute Internship program was an awesome hybrid. I had thought about Madrid but decided on London because I had been there before and loved it. It is easy to travel and you can speak English so there is less of a culture shock. I love the culture of the city and the fact that it has one of the largest finance industries.
Why did you choose Absolute Internship?
I found Absolute Internship's program through my university's international experience portal. I did my research and I chose Absolute Internship because their fees were very competitive for everything included compared to other programs.
What should students know when they apply to a program?
When I applied, I didn't think about the fact that the internship was only going to be for one month. Staying longer gets pricey but spending the money is worth it to do a longer time abroad. I would encourage students to think about why they are going abroad. If they want to gain more than a taste of professional experience then they should do two months.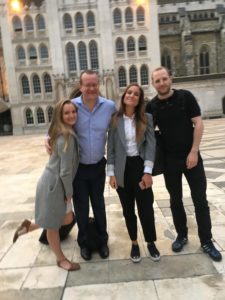 Can you tell us about your internship? What did you do?
I did a finance internship for a company that offers research and consulting services to other companies and investors. They post information on Bloomberg, Research Pool, Reuters and other networks. I would make sure information was up to date, help facilitate correspondence between investors and clients, work on industry insight, help edit and present research, and distribute information. I also managed the client database making sure everything was up to date and organized by regions, time zones and languages which was very imperative to what they do. Apart from the work I did, I loved the location of the company as it was in a really nice building next to the Royal Exchange and all the big firms. I really liked being exposed to the corporate world in London.
Were you able to work on any special projects or interesting assignments?
My company had hosted a conference in New York City earlier in the summer and they had 8 hours of audio that needed to be transcribed because clients wanted to read it. My original task was to find someone who could do the job but I decided to push to do the project as I was already there and I wanted to learn. They ended up letting me take on the project and it was a really really great learning experience! I spent hours and hours transcribing and listening about the structure of markets, financial instruments, etc. Another great opportunity I had was going with one of my bosses to Asset TV. She was doing a segment on the company's research and I was able to meet different bankers and people who traded securities which was really cool.
What was your favorite part of your internship?
Honestly, I felt accomplished that I was able to work with someone who has such a big name in the finance industry. I felt like I was actually serving a purpose and not just grabbing coffee. I was really pleased how they threw me into the fire and trusted me with tasks. I love the independence and empowerment that I felt. I could totally see myself moving to London and working there; my colleagues were so funny and awesome and we would often go out after work which made me feel part of the London lifestyle.
Do you think you gained skills in intercultural competence?
Oh definitely! Every single person where I worked was from a different country, Greece, Kuwait, France, the United States, Egypt, UK, New Zealand, it was so cool. I talked to them about what it is like from back home, shared experiences, what it is like to grow up in another country. We all bonded over being foreigners in London. After working with people from all over the world I have learned that at the end of the day we are not really that different. This was a very powerful feeling.
What was the biggest challenge you faced while interning in London and how did you overcome it?
There is always the challenge of feeling like you are not doing a good job, but I think the main challenge was not knowing what to expect and taking a leap of faith by travelling such a long distance for the role. Not knowing the city that well or knowing how you're going to get to work can be challenging, but give yourself time to adjust and settle in, get your bearings and overcome the initial culture shock.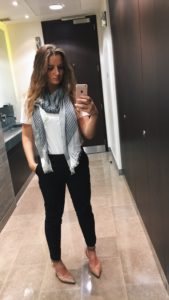 What advice would you give to future Absolute Interns?
Don't be afraid to ask questions or push to do tasks in order to get as much exposure as possible. You should do your best to get the most out of your internship. If they say you can leave early, don't! I stayed late every day because I wanted to learn as much as possible. Also take advantage of reading as much as you can because you will learn so much about your industry.
What are your future plans?
Apart from studying, social clubs and working part-time for my internship company, I don't know exactly what is next but I want to be working in finance. After having this exposure to trading products, investing and becoming better versed in markets, I am keener on trying sales and trading. Next summer I want to do something in finance for sure and keep learning as much as I can. I would love to work in Toronto, London or New York as I could see myself there in the future.
Want to intern abroad next summer? Apply to the Absolute Internship Program now!