09 Aug

My International Marketing Internship in Shanghai, China

On the plane ride over to Shanghai from the states I watched the movie Office Space, a comedy about office workers who hate their jobs and decide to embezzle money from the company they work for.

It wasn't the best idea. Even after the orientation from Absolute Internship I was still dreading the internship.

Alan, the other intern from UT, and I woke up early to take the metro there. I was nervous about spending hours at the computer with nothing to do, a rigid workplace, and coworkers who don't like to socialize.

I work for a marketing company that mainly works with clients such as agricultural trade groups in the United States, is nothing like that.

The lack of cubicles was the first thing I noticed. Desks and computers are arranged openly in a spacious, well-lit office surrounded by wall length windows that provide a view of various towers towards the Pudong district.
Our supervisor, Siyi, was nice enough to provide us with a tour and introduce us to the rest of the staff. She sat us down at a desk and left as we fiddled our thumbs and waited nervously for something to be assigned to us.

I like the balance of work here. We come in five days a week and maybe for two of those we are actually assigned something or invited to lunch or one of the many trade shows the company has booths at. For the other three days we sit at our computers and do our own things-be it surfing the web, browsing Facebook, or working on actual personal projects that we have.
It's a little strange. We do nothing but it would still be inappropriate to just leave early. I am still okay with it because I actually get work done during these free days.

For the days we get assigned work it has always been engaging. One of my first days here, I was mindlessly reading a Buzzfeed article. "The 15 Struggles all Interns Can Relate Too." As I was finishing, the girl in front of me, Zoe, asked if I was busy. I liked the article but I told her no. She asked me to do market research on oysters in several countries and sent me an email.
That was all the explanation she gave me before returning to her own work. I was slightly unsure of first but decided to just dive into it and fix mistakes later. I think the research online took about a week to complete. Thirteen or so years of being told to format a report into something readable, double-check sources, trust official websites the most, and organizing information really helped out here.

When I turned it in she told me it was really good. And I once again appreciated those moments when you think something you create is complete crap and then someone praises it instead. I also felt like I knew so much about oysters now. And I've never even eaten one.

Sometimes another higher-up in the office will call us interns over. It's someone different almost every time. Usually it's Siyi. She'll walk to our desks and gesture toward a small round table at a corner in the office. The walk over feels like we're about to receive a stern lecture.
But it's more like a briefing. She'll hand us a packet that outlines the marketing plan for one of our clients-usually a state-sponsored producer of pistachios, dairy products, or figs in the United States. We look through it as she explains that she would like us to come up with a few ideas that improve on some activities they are planning as part of the marketing.
For this we mainly talk it over for a few hours then type a Word document and send it to her. Quick work all in a day.
The best days so far have been helping on-site at the company activities. Our second week here we took a taxi to a nearby hotel where our company was hosting a chef seminar to encourage the use of California pistachios among pastry chefs in Shanghai. We invited a world renowned chef from the states and she demonstrated some different recipes she came up with. Her recipes were delicious and I grabbed second opinions from every sample.
Another day we took the bus far out to a culinary school on the outskirts of Shanghai. We were there to attend a contract-signing ceremony with new clients. The presenters spoke in Mandarin so I was lost but good things must have been said because I swear we were clapping on the minute.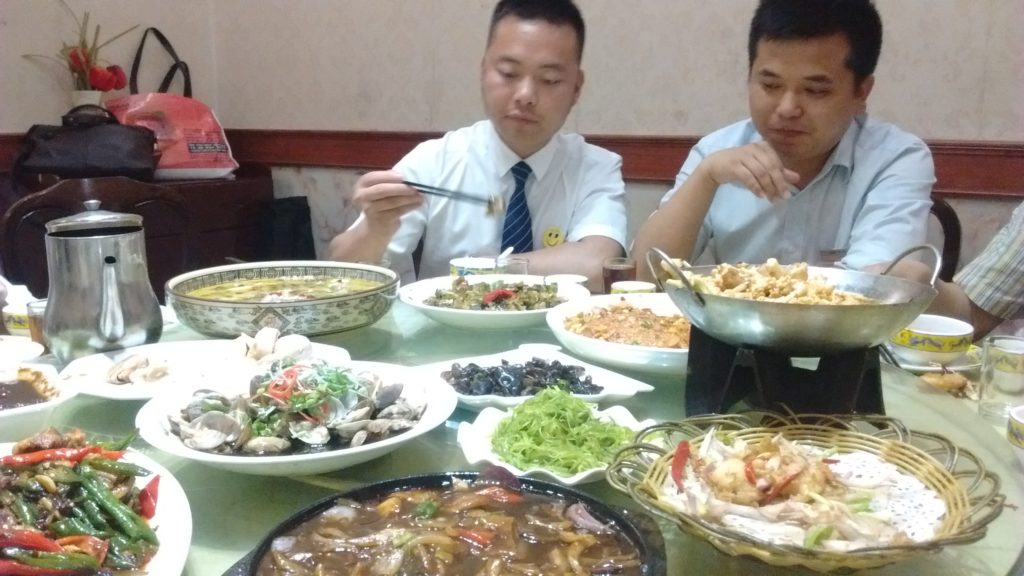 Afterwards, the clients took us out for lunch to a local restaurant. Catarina, the supervisor with us, is Italian but speaks Mandarin pretty well. She translated for us as they poured drinks and ordered more food and brought in some beer. Of all the drinks to have for lunch….
Still a worthwhile experience!