12 Aug

How Companies Adapt To Remote Work During Covid-19

As of August 2020, the virus has spread to six continents causing considerable harm to the global economy. National responses to the Covid-19 pandemic have included different lockdown measures to minimize the risk of contagion and the collapse of sanitary systems.

Governments all over the world have implemented travel restrictions, banned social gatherings and closed public spaces, including schools, restaurants and universities. Only essential services, such as supermarkets, pharmacies and hospitals have remained open. The world has essentially been put in a `Great Lockdown´. Thus, enterprises have had no alternative than to embrace a mobile way of working.

Some businesses have struggled to facilitate effective communication avenues to their staff, other businesses have thrived with completely remote teams and have demonstrated that teleconferencing and telework technology have advanced to a point where working from home or undertaking a remote internship does not entail any inconveniences. It has ranged from using Google Drive to easily access and share files, to bringing in real-time communication channels to remain connected while working at home. The latter have a significant head start over more traditional players who have been unable to adapt to this new work structure.
Innovation lies at the heart of the best companies
The magnitude and speed of the collapse of economic activity that has followed the quarantine measures imposed by governments all over the world are unlike anything experienced in our lifetimes. According to the International Monetary Fund (IMF), the world's economy is going to experience the worst recession since the Great Depression (1929-1933). States that rely on the travel and tourism industry for their growth are going to experience particularly large disruptions.
Business leaders are thus faced with uncharted waters as they continue to navigate the impacts of the Covid-19 pandemic. Many CEOs have focused on supporting their employees, their customers and their partners, and are continuously evaluating how to adapt and reshape their business in this very different environment.
"It is not the strongest species that survive, nor the most intelligent. It is the one that is most adaptable to change."

– Leon C. Megginson (Civilization Past and Present, 1963) on Charles Darwin.
We are facing a period of unpredictability but what follows will not be a return to the regular business practices before Covid-19. The following years will be defined by changing shifts in cultural norms where business will have to adapt accordingly. Innovation lies at the heart of the best organizations. Companies that are able to recognize the challenges and adapt, will be better equipped to embrace new opportunities.
Incorporating basic communication tools
Absolute Internship has talked to two CEO's to disclose how the pandemic could forever transform the way we work. They agreed that the pandemic has acted as a technological equalizer, where companies unaccustomed to using tech tools in their workplace have had no alternative but to adapt.
Carlos Martínez is the CEO, founder and director of Invercrea, a consultancy firm composed of industry-specific experts who offer professional advice, guidance and practical solutions for industrial companies. Invercrea offers clients tailored answers to problems that can't be handled internally and assists them in achieving the company's goals. Mr Martínez has worked with a myriad of companies throughout his life and has shared his insight on how enterprises, including Invercrea, implemented remote work before the pandemic and after. Mr Martínez had invested in telework technology before the pandemic so his team was able to successfully adapt to the change in work structure.
The only change he recognized during lockdown were the restrictions on the mobility for him and his team. However, he introduced `Microsoft Teams´ to his employees and this is now their number one most used communication tool. With clients he started using Zoom and Skype to communicate.
"My team adjusted quickly to the changes," Martínez explains, "However, other companies we work with had resisted the implementation of telework in the past and are now struggling to implement remote work since they had not properly invested in teleconferencing and telework tech to support their employees."
Jose Vicente Tomás is the CEO and founder of Kerajet, a company that designs digital printing machines for ceramics, offering a more efficient and competent production process. His company received the prestigious `Gold Alfa´ award of the Spanish Society of Ceramics and Glass that recognizes the most important innovations in the sector. Kerajet has enterprises in China, Portugal, Italy, Brazil, India and Turkey and the majority or his clients are foreign. Thus, the ban on traveling has been an important setback for the company since the importation and exportation of material completely stopped and clients could no longer come to Spain to purchase the machines.
"The manufacturing part of the job completely stopped since employees were not able to go to the factories," Mr Tomás explains, "However, we still provided technical support to foreign companies that had bought our machine via Skype or via the images recorded by the cameras previously installed in our machines."
Tomás points out that basic communication tools already existed years ago but some companies have only started using them now due to the lockdown measures.
"Even before Covid-19, we used simple technology to avoid national and international traveling," Martínez explains, "For example, when my company was hired to supervise a construction site, I simply used CCTV to monitor all activity taking place on site, instead of having to travel to the location."
What Will Change In The Following Months?

9- 5 office hours will become a thing of the past
Once we reach the other side of this pandemic, Martínez and Tomás expect to see a more agile way of communicating with employees. They reckon that work meetings in the office will still take place but far less frequently than before. In fact, most meetings will take place online and more emails will become instant messages on platforms such as Slack. Overall, they expect employers to be more flexible when it comes to scheduling and planning.
Martínez believes that Covid-19 has forced companies to face considerable IT challenges and has pushed them to operate in more modern ways. According to Mr Martínez, several companies he has collaborated with in the past were apprehensive about working remotely for two reasons. Firstly, they were under the false pretense that online communication tools would be complicated to use on a daily basis and overall, too much of a hassle. Secondly, they believed it could negatively affect employees' productivity. However, working from home can actually have the opposite effect.
Mr Tomás points out that remote work offers a better work-life balance since employees do not lose hours of their day commuting to the office. Moving forward, employers, directors and CEOs will learn to trust their employees and will allow more flexibility around work hours and work sites.
In the long run, both Martínez and Tomás believe that companies will consider working arrangements which are not exclusively remote but that will allow employees to split their week between working from home and working from the office. This arrangement would involve a variety of communication channels on a weekly basis, such as face-to face, phone, video conferences and e-mail.
Informal communication
Martínez believes that conversations that take place in the office corridor, having a coffee with a work college or during an informal chat with your boss, are important and can lead to new ideas through informal group brainstorming where employees are not under pressure to thoroughly explain an idea, like they would in a business meeting.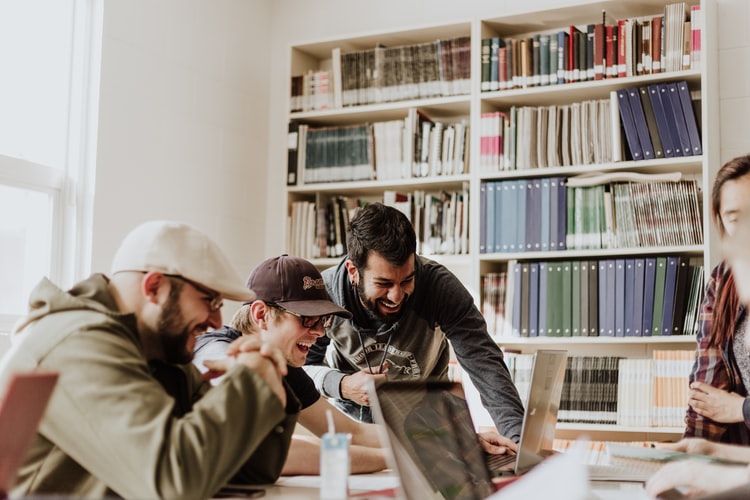 Thus, employers should recognize that although e-mail communication is undoubtedly efficient, there are other channels often used for informal communication in the workplace that are also incredibly important, such as Slack, WhatsApp and traditional phone calls.
Home office stipends
If remote work becomes the norm and office meetings are reduced to once or twice a week, employees will need additional resources to maximize their productivity at home. Stipends will help employees to purchase the supplies they need to create their home office spaces.
Turning Challenges Into Opportunities
The Covid-19 pandemic has presented an opportunity for many companies to become more digital, create stronger capabilities in security and create a system that will better prepare businesses for future disruptions.
We are not able to predict the length or the global economic ramifications of this crisis. However, if a company is able to recognize the challenges they are facing, they will be better equipped to find the solutions. In fact, after the global financial recession (2007-2009), companies such as Lego and Amazon actually saw profits grow and Amazon managed to attract three million more subscribers by the end of the year. Like Winston Churchill said:
"Never let a good crisis go to waste."