06 Jan

First Days in Hong Kong!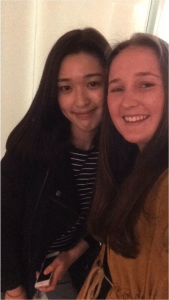 I left Australia on Christmas night and arrived at Hong Kong International Airport at 5am on the 26th of December. I made my own way to the accommodation by train and luckily was able to check in to my room early. I slept until I was awoken by a knock on the door, my roommate to be for the next two months, Robin from South Korea! We immediately bonded over some Kpop tunes (2ne1 – I'm the best– it's super catchy!) and what was soon to be discovered, a shared love for desserts. A roommate who brings home macaroons most days? She's a keeper!
I am very fortunate that my work place is only a two-minute walk away. Literally from my bed to my desk, picking up a coffee en route, takes 8 minutes. I start work anytime between 9.15am and 9.45am and finish sometime after 6pm, depending on how productive I've been during the day. My workplace is really REALLY cool, there is only one rule, which is 'no stupid rules'. I wear free dress to work and go out for the one-hour lunch break with a few people from the office everyday. I've already learnt so much in Marketing and Business Development, specifically for technology start-ups.
During the first week I went out for dinner almost every night with a group of the other interns. We always go to local, cheap restaurants near the hotel who usually only speak Cantonese and maybe have one English menu. I am addicted to noodles and soup now, and will happily have this for lunch and dinner unless we go to a dim sum restaurant in which case I'll eat a ridiculous amount of pork buns. Dim Sum Square and Tim Ho Wan in Sham Shui Po are definitely my favourites so far! And it's so cheap! I can't complain when I'm only spending the equivalent of $25-$30 Aussie dollars on eating out for breakfast, lunch and dinner!
At this rate I'll never leave Hong Kong and will have to be deported out of the country. That's how much I'm loving working in this city!